Territorial Forestry Division
Last Updated on: November 30, 2022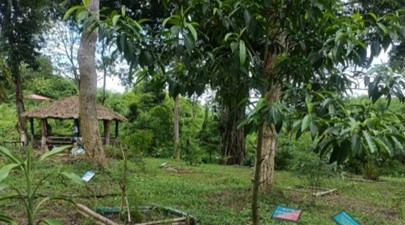 About:
The Sivasagar Forest Division was created during 1993 by bi-furcating the erstwhile Jorhat Division within the Sivasagar political district. This division is surrounded  by the the river Brahmaputra in its North, the Dibrugarh Division in its East, the states of Nagaland and Arunachal Pradesh in its south and Jorhat Division in its West.The division has 24105.046 Ha of notified forest area consisting 7(seven) nos. of Reserve forests namely Geleky RF, Panidehing RF, Abhoypur RF, Sola RF, Sapekhati RF, Deroi RF and Dilli RF. The division has a 33.93sq km Protected Area namely Panidehing Bird Sanctuary  with an area of adjacent to the Panidehing Reserve Forest with its 282.12 km area as Eco Sensitive Zone being shock absorber. The division is spread over two civil districts namely Sivasagar and Charaideo. Most of the Reserve forests are consisting of Hollong Nahor Forests of the Assam Tropical Evergreen Forest type.
Location: 26o59'43''N and 94o37'48''E

Vision
To protect and improve the environment and Biodiversity, to safeguard the forests and wildlife of the division, to preserve and add new dimensions to the rich heritage of our composite culture, to protect and improve the natural environment including forests, rivers and wildlife and to have compassion for living creatures. It also encompasses opening up the forestry sector for income and employment generation among our people while conserving the priceless biodiversity of the districts of Sivasagar and Charaideo and thus progressively reducing the pressure on the natural forests.
Mission:
The Division plans, executes, co-ordinates and monitors implementation of various forestry and wildlife programs to ensure ecological security and environmental balance by sustainable management of forests. It is also engaged in enhancing the forest and tree cover through people's participation on benefit sharing basis in order to meet the people's needs and for better realization of ecological goods and services.
Objectives
Protection, Conservation and Development of forests and wildlife and suitably use low productive and degraded lands through tree plantation.

To increase tree cover outside the forest area and encourage people and institutions in plantation related activities so as to achieve the goals of National Forest Policy 1988 and cover maximum areas under forests.

To create awareness among the people about the forests and environment.
Recent Achievement:
A Sahitya Manishi Upabon (Bio-Diversity Park) has been established at Geleky  Reserved Forest under State CAMPA Scheme.

The area of Sahitya Manishi Upabon is 2.5 Ha.
519 nos. of tree species, 62 nos. of Orchid species and 23 nos. of bamboo species are planted in the Sahitya Manishi Upabon (Bio-Diversity Park)
Raising of 1.0 Ha site nursery is on process for creation of 50 Ha AR plantation at Disangmukh.

Erected 6.0 Km Solar Fencing at Disangmukh to mitigate Human-Elephant conflict.
Projects & Schemes:
 

Item of works

Quantity

Total amount

Site specific justification

1.Project Elephant (CS & SS)

 

Construction of Elephant Trance

1 km @ Rs. 6.0 lakhs

Rs. 6.0 lakhs

To confine infestation of Wild Elephant in adjoining villages of Panidehing Wildlife sanctuary.

2.Integrated Development of Wildlife Sanctuary

 

Removal of invasive species in 3 nos. Wetlands

 

 

 

 

Hingora jan Beel

4 ha.

Rs. 2.0 lakhs

Wild invasive degraded the Wetlands and other habitat of the sanctuary beside detrimenting dropness of wetlands..

 

Ii) Gela demow Beel

4 ha.

Rs. 2.0 lakhs

 

iii) Lolitongkur beel

3 ha.

Rs. 1.5 lakhs

3.Construction of Bundhs/check dams

 

 

Ujantoli Nola

1 no.

Rs. 24.30 lakhs

To keep water reserve in a suitable level during winter season to provide habitat of birds and fish species.

 

Ii) Jolatup Nola

1 no.

Rs. 24.60 lakhs

 

Iii) Ghokha Borbeel Nola

1 no.

Rs. 24.10 lakhs

4. Construction of patrolling/ inspection paths and tourist road

 

 

Chitolia Camp to Kandulijan Beel

3 km

Rs. 15.00 lakhs

Patrolling and approach road to bird flocking site for providing facilities to visitors.

 

ii) Soroguwa Beat to Ujantoli Beel

2 km

Rs. 10.00 lakhs

 

Desiltation of shallow Wetland

Ujantoli Beel and Kandulijan Beel to make water holes

1 no.

Rs. 24.50 lakhs

Making of water holes to keep the water reserve during drought spell.
Branches & Offices:
| | | |
| --- | --- | --- |
| Sl No | Name of Office | Location |
| 1 | Divisional Forest Office | Borpukhuripar,Sivasagar |
| 3 | Sivasagar Range Office | Borpukhuripar,Sivasagar |
| 5 | Geleky Beat Office | Geleky RF,Sivasagar |
| 6 | Atkhel Beat Office | Gelekey RF,Atkhel,Sivasagar |
| 7 | Haluating Beat office | Haluating,Geleky RF,Sivasagar |
| 8 | Amguri Beat Office | Amguri,Sivasagar |
| 9 | Demow Beat Office | Demow,Panidehing RF, Sivasagar |
| 10 | Desangmukh Beat Office | Desangmukh, Panidehing RF, Sivasagar |
| 11 | Sorogua Beat Office | Sorogua, Panidehing BS, Sivasagar |
| 16 | Sonari Range Office | Naphuk,Sonari range, Charaideo |
| 17 | Kherbari Beat Office | Abhoypur RF, kherbari |
| 18 | Singloo Beat Office | Abhoypur RF,Kherbari |
| 19 | Sola Beat Office | Sola RF, Mathurapur, Charaideo |
| 20 | Namtola Beat Office | Abhoypur RF, Namtola |
| 21 | Deroi Beat Office | Deroi RF,rangoli |
| 22 | Lechai Sub-Beat Office | Abhoypur RF, Namtola |
| 23 | Borhat Range Office | Borhat |
| 24 | Panbari Beat Office | Panbari,Borhat |
| 25 | Dillighat Beat Office | Dillighat, Dilli RF,Borhat |
| 26 | Lefera Beat Office | Lefera ,Dilli RF,Borhat |
| 27 | Halua Beat Office | Halua , Dilli RF, Borhat |
| 28 | Bimolapur Beat Office | Bimolapur,Borhat |
| 29 | Sapekhati Beat Office | Sapekhati,Borhat |
Citizen Services:
Raising plantation in urban area for maintaining Eco-system.

Awareness campaign among citizen for
Conserving forests along with its wildlife and their habitats

Producing and harvesting forest produce using scientific system.

Opening up forest resources for income and employment generation.
Contact Details:
| | | | |
| --- | --- | --- | --- |
| Sl No | Name of the officer | Designation | Contact details |
| 1 | Sri Deben Chandra Kalita, AFS | DCF, DFO | 9864117949 |
| 2 | Sri Bubul Baruah, AFS | FRO,Sivasagar Range | 7086821545 |
| 3 | Sri Dhimangshu Saikia,AFS | FRO,Sonari Range | 9706373277 |
| 4 | Smt  Sumi Deori,AFS | FRO, HQ | 8724036554 |
Photographs: