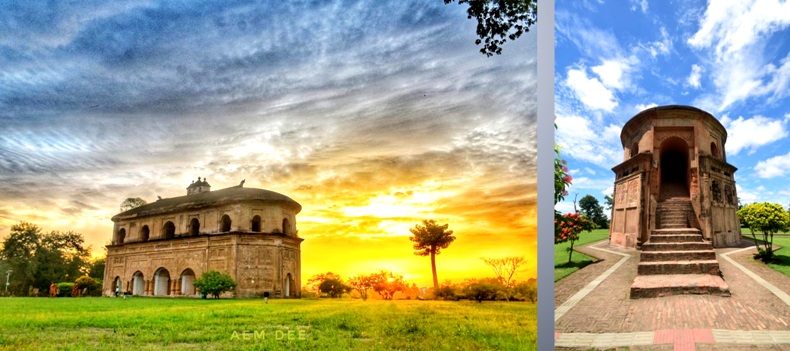 Rang Ghar
It is known as first Ampitheatre or first Pavilion of Asia. It was built by Swargadeo Promotta Singha in the year 1744 A.D. Its shape is octagonal at base. The building has two storeys. At the roof of the structure is shaped like an inverted royal Ahom long boat where there are the projecting heads of two small MAKARAS or JALAHASTIS facing reverse towards north and south. The Rang Ghar was built specially for enjoyment of recreational/sports activities by the royal families and public of the Ahom dynasty.

Many of the arched entrances have retained little more than their brick framework, with mere vestiges of sculptural adornments here and there. 

The adjoining field, known as Rupohi Pothar, wore a festive look when games like bull-fight, cock-fight, elephant fight, wrestling, etc., were held on different occasions during the Ahom rule. Rang Ghar, besides standing as the royal pavilion, also contributed in spreading the games to different parts of the kingdom and its neighbouring States.
It is 3.0 Kilometers away from the center of Sivasagar Town and situated by the side of the Assam Trunk Road.