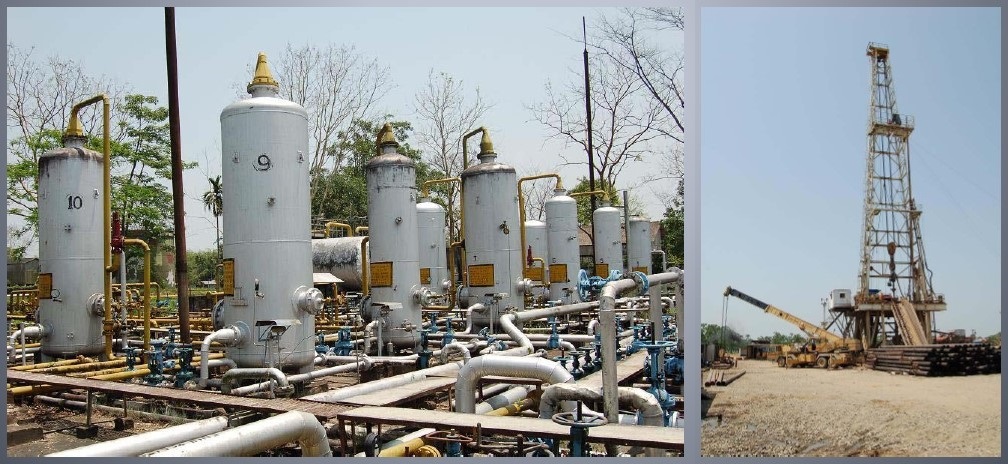 ONGCL (OIL & NATURAL GAS CORPORATION LIMITED):
The Assam Asset of ONGCL is one of the largest Onshore Assets of ONGC, is geographically spread across the Sivasagar district. The operational Headquarter of Assam Asset is located at Nazira, about 16 kms from the historic Sivasagar town. The Assam Asset manages the development and production activities for ONGC's mature onshore fields in North Assam-Shelf like Geleki, Lakwa, Rudrasagar and fields like Lakhamani, Laiplingaon, Demualgaon, Charali, Changmaigaon along with other marginal fields.
ONGC struck oil in Assam on 7th December, 1960 at Rudrasagar-I within 3 years after it started the search for oil in Assam in 1957. This discovery of oil at Rudrasagar-1, Assam, was the third success for ONGC. Currently, Assam Asset operates 43 Production Installations, 16 Drilling Rigs, 1 testing rig and 15 Work over Rigs. Assam Asset has 4 Logging unit, 4 Fire Station, 5 RFS unit and 32 WSS units. In addition, there is a network of 360 km of Trunk Pipelines and 1200 km Flow Lines. All operational installations are accredited with QHSE certifications, conforming to statutory guidelines. As part of Hydrocarbon Vision 2030 for North East India, the Assam Asset is geared up to double the production of Oil & Gas by 2030. 
Right from a rig to the Group Gathering Stations, all the activities are worthy to watch and thus making it potential for tourists to explore the production of oil.